How Journaling Can Help You Meet Your Financial Goals
Written By:
Matt Mignona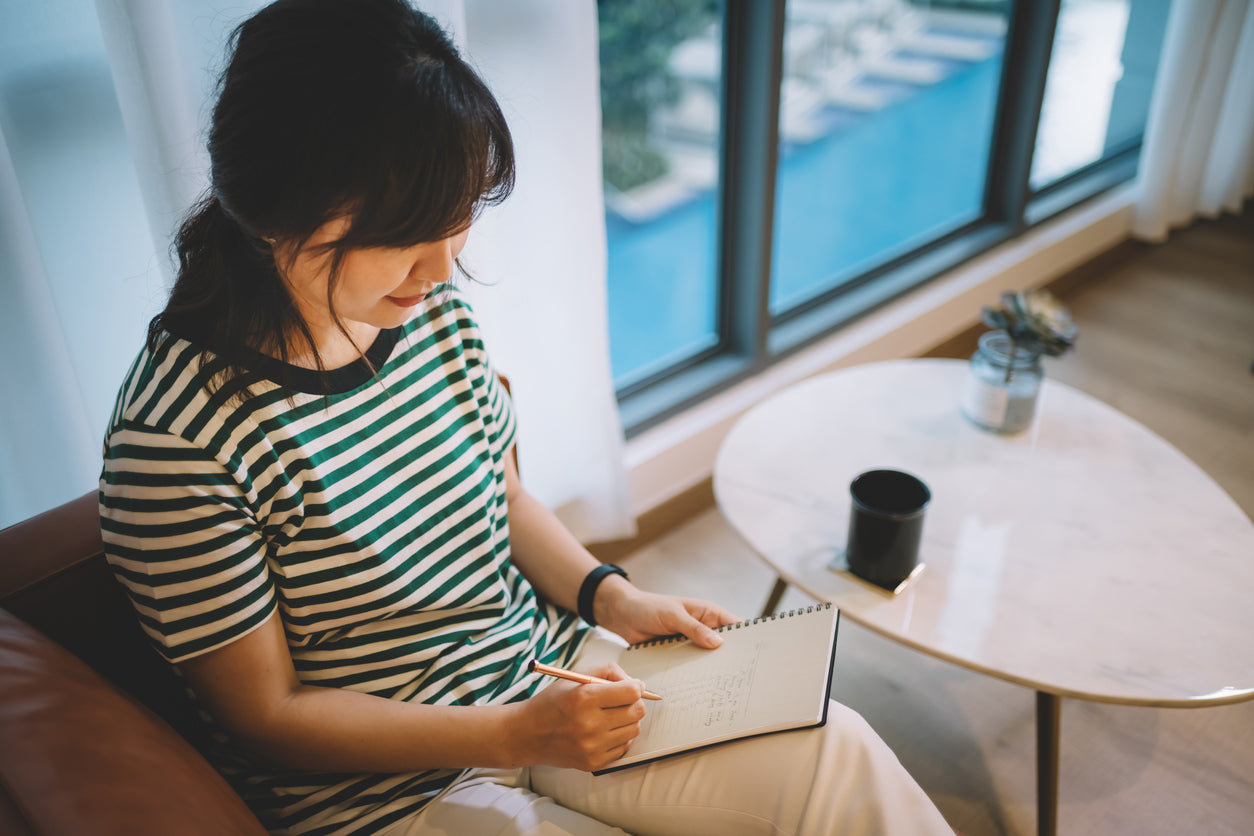 True wellness isn't just about fitness and physical health: it encompasses all areas of life, including your mental state, spirituality, professional satisfaction, relationships—and finances. According to PwC's 2018 Employee Financial Wellness Survey, 40 percent of employees say financial issues are the biggest source of stress in their lives. Money issues are also one of the top reasons married couples get divorced. 
That's no reason to panic (please, no more stress!), but it is a good reason to get serious about your financial goals. 
The Financial Goals You Need in Your Life
When people think about financial goals, they often think about a sum of money they'd like to have in the bank. That's one way to look at it, but there are a lot of other ways to organize your financial life and set goals around money. Here are a few of them:
Get Out of Debt
From credit cards to mortgages to student loans, being in debt forces your hand. It's hard to quit a job you don't like, for example, when you know those debts are piling up. Paying off your debts frees you to put more money into savings, spend on what you'd like, and stay open to new opportunities—even if you don't earn the same paycheck right away. Read this for more tips on how to get out of debt.
Create Multiple Streams of Income
Having a job is great, but if the job disappears, how will you pay your rent? Developing multiple streams of income creates a safety net if one stream dries up. You could start a side business, become a consultant, write an ebook, or start a blog or YouTube channel. What steps could you take today to start creating a second stream of income?
Give Back
Money is energy. If you're hoarding it and trying to control it, it ends up controlling you. When you're able to give—not recklessly, but with ease when the situation calls for it—you essentially affirm your awareness that the money, the energy, will work its way back to you. Practice devoting a percentage of your income (whatever feels right to you, perhaps working your way up to 10 percent) to causes that matter to you. These could be political campaigns, local charities, large non-profit organizations, or even crowdfunding campaigns for friends and strangers alike.
Avoid Buying a Bunch of
Stuff
Research has shown that people who spend money on experiences are happier than people who spend money on things. When you start accumulating stuff, you need a place to put it, which might mean spending more on a bigger house or renting a storage unit. There's a reason Marie Kondo is so popular right now: we're all starting to recognize the peace that comes with simplicity. You'll find greater enjoyment in the things you do have, and you'll save a lot of money by not buying those things you don't need or even really want.
Live Below Your Means
Budgeting is the key. Write down how much you take home every month, what your monthly expenses are, and which of those are truly necessary. Do you need three video streaming subscriptions? Could you make one more meal at home every week? If you did some meal planning and prepping, could you avoid throwing out so much food? Are there times when planning ahead would save you some money (i.e. early bird conference registrations, sales and promotions, paying the bills on time to avoid late fees)? 

Budgeting: The Art of Kakeibo
All financial goals start with a full understanding of what you earn and what you spend. The Japanese use kakeibo, a detailed ledger of monthly income and expenses that focuses on four categories:
Survival:

 

Rent, food, medical expenses
Optional:

 

Dining out, shopping, alcohol and other vices
Culture:

 

Music, theatre, books
Extra:

 

Unexpected repairs, gifts, unusual one-time purchases
Enter every expense into the appropriate category to see where you do the majority of your spending and where you can cut back—you may be able to save up to 35 percent if you track carefully and be honest about what you can eliminate. From there, you can set goals for savings (emergency funds, vacations, and more).
Kakeibo has been around since 1904 when Japan's first female journalist published one in a women's magazine. It fits in well today with our renewed interest in organization, journaling, and financial fitness.
Journaling to Meet Your Financial Goals
With or without kakeibo, journaling is an effective way to help you meet your financial goals:
In the morning, write down the money matters you're grateful for: plenty of cash for rent, a regular paycheck, an unexpected monetary gift, or even finding a quarter on the ground. Surround the idea of money with gratitude and good vibes.
Write your financial goals and one task you can do today to help you achieve them. For example, you might decide to put $5 in your savings account, make your first budget, or skip the take-out in favor of making dinner at home.
Before bed, acknowledge whether you accomplished that task and how it made you feel to do it. 
If you didn't complete that day's goal, reflect on why and how you can do better tomorrow.
Write down your goals again, adjusting them if they've changed based on what you learned or experienced that day or week. 
Some changes are so gradual, they're hard to notice unless you're tracking them. This is true for fitness, your mental health, and your approach to money. With journaling, you can take note of your spending habits and reflect on any purchases you might now regret. You might also clarify some major life goals in your journal—which may inspire you to earn and save for what's really important to you.
Looking back over your journal, you'll be able to see how past money concerns have been replaced with confidence, and how saving habits that might have once seemed challenging are now a natural part of your life. 
One of our planner printables, Plan on a Page, provides a great framework for breaking down your most important financial goals and outlining the actions steps you need to take to achieve them—along with a deadline for them. The Happier Mind Journal can also be used to track your money gratitude, daily goals and accomplishments, and how you feel about working your way toward financial freedom.
Make financial wellness a part of the total wellness plan for your life by outlining your financial goals—and taking those first action steps toward accomplishing them.